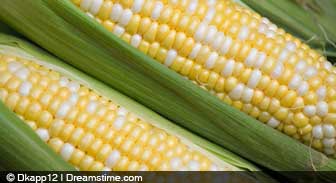 Located in the Midwest, the Hawkeye State features cooking that is considered classic American cuisine. The top livestock and crops produced in Iowa influence what you'll find on menus. Many tasty treats and large food companies originated in Iowa, as well. If you've got an appetite, Iowa's got the food to fill any craving.
Major Food Products
Most of Iowa's economy is centered around the production of corn and corn byproducts – and rightly so. Iowa produces 19% of the nation's corn, making it number one in corn production. Aside from corn kernels, corn on the cob, and popcorn, corn is used in numerous other products, from margarine to plastics. Some beloved and delicious dishes made with Iowa corn include Iowa Corn Soup, Iowa Corn Au Gratin, and an array of casseroles.
Iowa also leads the country in cultivation of market hogs, with over a quarter (15.5 million hogs) of the country's pig stock coming out of Iowa. Because of this, it's no surprise that pork dishes are common in Iowa. Some of the more popular dishes include smoked sausage skillet cassoulet and peppered pork tenderloin. It's rare to find a restaurant in Iowa that doesn't have pork on the menu, with a variety of dishes available in breakfast, lunch, and dinner selections.
Iowa's chickens lay a staggering 13.8 billion eggs each year, making them the number one producer of chicken eggs in the country. As in the rest of the U.S., Iowa's bakers and chefs use eggs when the recipe calls for it, and as part of a balanced breakfast. However, visitors will find that Iowa's menus offer a larger amount of egg-centric main dishes, like various quiches, frittatas, egg-based pizzas, and casseroles.
Soybeans are used to make oil, meal, flour, milk, infant formula, margarine, and to replace other existing products (most popularly, meat). Iowa alone produces almost 500 million bushels of soybeans annually, making it the top producer of soybeans in the country. While many of Iowa's restaurants offer delectable vegetarian dishes now, your best bet if you'd like to sample a soy-made meal would be to visit a vegetarian eatery. Examples of such places include The Red Avocado in Iowa City and Gupta Vegetarian in Fairfield.
Today, the Red Delicious apple is the most popularly grown apple around the world, but in 1872 when it was discovered on an Iowa orchard, there was only one known tree that produced them. Red Delicious apples were popularized at the Missouri State Fair in 1893, and today can be found in nearly every produce section of grocery stores across the country. Residents of Madison County celebrate the apple each year during the Apple Days Festival.
Local Treats
Maid-Rite Sandwich
The Maid-Rite Sandwich is a loose meat sandwich served on a bun with pickles and onions, but specifically without ketchup. Many purist restaurants in Iowa that serve Maid-Rites even refuse to offer ketchup to patrons who purchase the sandwich. What exactly is it that's so special about this sandwich, when loose meat sandwiches are easily found all over the country? The key is in a secret blend of spices undisclosed to the public, though some speculate that cola syrup is added to the mix.
Maid-Rite Sandwiches can be found throughout Iowa in Maid-Rite restaurants. For an extra special treat, visit the Maid-Rite in Durant, the first in the franchise to be opened.
Twin Bing Candy Bar
Twin Bing is not only one of the oldest candy bars in the country, it's also made by one of the country's oldest family-run candy companies – the Palmer Candy Co. in Sioux City. The Twin Bing candy bar features a cherry flavored cream center, dipped in milk chocolate and coated with peanuts. Created in 1923, the Twin Bing is well known in Western Iowa where it can mainly be found at grocery stores and gas stations. If you see one on the shelves, don't hesitate to grab it – they're a rarity even in Iowa.
Ice Cream Capital of the World
Le Mars, Iowa, produces more ice cream by one single company (Wells' Dairy) than any other city in the world. James H. Wells founded Wells' Dairy in 1913, when he purchased a horse, a delivery wagon, some milk cans, and a dairy farming business for only $250. Today Wells' Dairy makes Blue Bunny brand ice cream and dairy products that sell the world over, and attract visitors to Le Mars by the millions.
When traveling through Le Mars, make sure to stop by the Ice Cream Capital of the World Visitor Center. You can tour the museum (either in a guided group or on your own), head to the production theater and watch how ice cream is made, or sit down at the vintage 1920s Blue Bunny Ice Cream Parlor and devour a frosty treat.
In mid-June, make sure you stop by the weekend-long annual festival Ice Cream Days. There's tons to do during Ice Cream Days, including a dance, horse show, three-on-three basketball tournament, and of course, tons of free ice cream.
Eskimo Pies
Another good way to indulge in Iowa-made sweets is with an Eskimo Pie. The Eskimo Pie was invented in Iowa in 1919 by Christian Kent Nelson, a schoolteacher and confection shop owner. Legend has it that one day a boy came into his shop and could not decide whether he wanted to purchase a candy bar or an ice cream. When Nelson asked why he didn't just buy both, the boy replied that he only had enough money for one. Nelson then set out to create a dessert that combined candy and ice cream at an affordable price. After weeks of experimenting, he came up with the I-Scream Bar, a chocolate-covered vanilla ice cream bar.
Locally, the I-Scream Bar was a hit, and two years later Nelson partnered with candy maker Russell C. Stover, changed the name to Eskimo Pie, and began selling nationwide. At the height of its popularity, more than one million Eskimo Pies were sold every day. Stop into any local grocery store and pick one up to add a little bit of sweetness to your Iowa vacation.
The World's Largest Cereal Company
Quaker Oats, located in Cedar Rapids, is the largest cereal company in the world. It all began in the 19th century with three oat-milling companies in Iowa and Ohio. When the original Cedar Rapids cereal mill (the era's largest) merged with the Quaker Mill Company and the German Mills American Oatmeal Company, Quaker Oats was born. Today, Quaker Oats brands include various cereals, cereal bars, oatmeals, Rice-A-Roni, Near East rice and pasta side dishes, Aunt Jemima syrups, and more.
For a taste of Quaker Oats products, visit Cedar Rapids during the months of June and July, when they celebrate the 16-day Freedom Festival. The event is given a jump-start with a hearty pancake breakfast sponsored by Quaker Oats.
Other Options
Iowa is not unlike the rest of the country when it comes to chain restaurants and fast food offerings. Likewise, visitors will find that ethnic foods like Mexican, Chinese, and Indian foods are also plentiful. If you're a picky eater, hesitant to try something new, or just want to stick to your regular diet, you'll have no problem finding something you like in Iowa.
Iowa's food stylings span the board, from tasty sweets and meaty sandwiches to oat cereals and locally grown produce. With so many varied culinary creations coming from Iowa, who knows what residents will come up with next. One thing is for sure, when it comes to eating out in Iowa, you'll never go hungry.
Print this Article