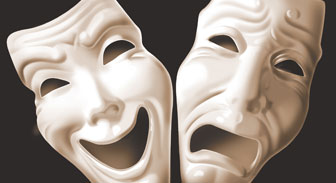 Iowa's vacationers will not be left wanting when it comes to theatrical pursuits. Travelers can attend a wide variety of theaters, including those specializing in musicals, children's theater, and dinner theater. For an added bonus, visit The Music Man Square in Mason City, a town that pays tribute to the musical The Music Man and its author, Meredith Willson.
The Music Man Square
Whether interested in theater or not, most Americans are familiar with the popular musical The Music Man. A hit on both Broadway and in film, The Music Man tells the story of a con man, Harold Hill, who tricks parents into believing that he can teach their musically inept children to play music well. After collecting pre-orders for instruments, he leaves town and heads to the fictional town of River City, Iowa, and begins his scam again. This time, however, his plan is compromised when the town librarian sees him for who he truly is. In the end, he's forced to choose between staying and owning up to his actions, or skipping town once again and leaving his newfound love for the librarian behind him.
Iowans boast that the rich musical background and friendly atmosphere of Mason City, where playwright Meredith Willson grew up, provided the perfect model for The Music Man's River City. To honor both the musical and the author, residents of Mason City created The Music Man Square.
At The Music Man Square, there's plenty for travelers to see and do. After touring Meredith Willson's boyhood home, visit the Meredith Willson Monument, Meredith Willson Museum, a music conservatory, and dozens of shops and buildings modeled after those seen in the movie version of the musical. Walking into The Music Man Square is like stepping back into time to 1912, when the musical was set, and enjoying life in River City.
Theater Groups
Iowa is home to numerous live theaters, each of which performs several shows a season. If you're interested in a night out to enjoy the arts, theater is the way to go, as there are so many options available that you're sure to find something to please everyone. Because performances rotate frequently, it's best to check the listings wherever you're staying to find out what's playing nearby. Meanwhile, here are a few of Iowa's theaters you may be interested in visiting:
Riverside Theatre – Iowa City. Riverside Theatre is Iowa City's professional theater company. Their seasons tend to last from September to April, with a new show each month. During the off-season, they take to the park and perform the Riverside Theatre Shakespeare Festival.

Waterloo Community Playhouse – Waterloo. The Waterloo Community Playhouse has been performing amateur productions for over 90 years. Their season runs year-round, with new productions every other month.

Stage West – Des Moines. Stage West prides itself on performing eclectic, urban performances that may not be suitable for all audiences. Their season offers five performances between the months of September and June.
Opera Houses
Opera is a form of musical theater in a more classical variety, quite often performed in foreign languages. At one time, opera houses could be found in many cities and towns throughout the country. While opera is still relatively popular around the world, it's a rarity for Iowa's opera houses to perform operas any longer. Still, they're worth visiting. Many are historical landmarks that have been standing on Iowa's soil for at least a hundred years, often lovingly restored to their former grandeur. Experience history and enjoy theater at one of these opera houses:
The Grand Opera House – Dubuque. As the oldest theater in Dubuque, the Grand Opera House is an opera house in name alone. The Grand does, however, offer up a wonderful mix of musical theater, ballet, and comedy pieces.

Elkader Opera House – Elkader. Though it was once truly an opera house, today the Elkader hosts traveling musicians and musical theater performances by their very own Opera House Players.
Children's Theater
Not all theater is appropriate for children. If you're traveling with youngsters and want to experience theater that your whole family can enjoy, your best bet will be to check out one of Iowa's many children's theaters:
Black Hawk Children's Theatre – Waterloo. The Black Hawk Children's Theatre performs in conjunction with the Waterloo Community Playhouse, putting on several family-friendly shows each season.

The Children's Theatre of Cedar Rapids – Cedar Rapids. For over 50 years, the Children's Theatre has been performing for the area's tykes with their mascot, Playtime Poppy, a happy ear of corn, in tow.
Dinner Theater
Dinner theater makes live theater more accessible by providing delicious meals alongside an entertaining performance. Dinner theater performances are often lively events that encourage audience participation in a family-friendly atmosphere. Any one of the following theaters are sure to fill both your stomach and your mind with the best:
"Jest" Murder Mysteries – Des Moines. Jest offers seven different shows for diners to enjoy. Take part in solving the murder mystery while you enjoy excellently-prepared food. Can you figure out who dunnit?

Ingersoll Dinner Theater – Des Moines. Having opened in 1976, the Ingersoll is one of the longest-running dinner theaters in the nation. They perform comedies, musicals, and children's shows.
College and University Theater Groups
With more and more colleges and universities across the country offering degrees in the theater arts, you'll find that there are ever-increasing opportunities for viewing a live performance. If you look forward to an evening out at the theater, don't overlook productions by theatrical students, who often offer performances to rival professional theater groups.
A great example of this is the Theatre Arts department of Iowa State University, one of the oldest and most respected theater arts programs in the country. Their main stage season includes four to five plays, as well as performances in the Iowa New Play Festival. During the summer months, the students join the Iowa Summer Rep, so you'll be able to catch them in action no matter when you're traveling.
Regardless of the type of theater you prefer, you're sure to find it in the Hawkeye State. The state's performers work hard to entertain their audiences and shine a spotlight of joy – if only for the few hours of the play's production – on your Iowa vacation.
Print this Article